Table of Contents
What are Charms?
Charms is a brand-new form of expression that you 'wear' on your Avatar like a fashion accessory; so you can express yourself to everyone. Charms can also be 'gifted' to your contacts or group members to show you love them, that you are best friends, to wish them happy birthday or just to say 'hi'.
Charms is rolling out with 55 products across 8 categories, including some free samples and a special limited edition 'launch charm'. There are many more in the pipeline as well as plans for releasing special seasonal and special limited editions to tie in with specific calendar dates throughout the year. You can view all Charms on the Store page.
| | | |
| --- | --- | --- |
| Charms appear at the bottom left of your avatar. | This is your Charm's inventory. | This is how Charms appear in chat. |
Your Profile
On your profile, you can see which Charms you have and their number. You can also see who has gifted you Charms. There are 3 Charm-related stats available to view, which you can view below.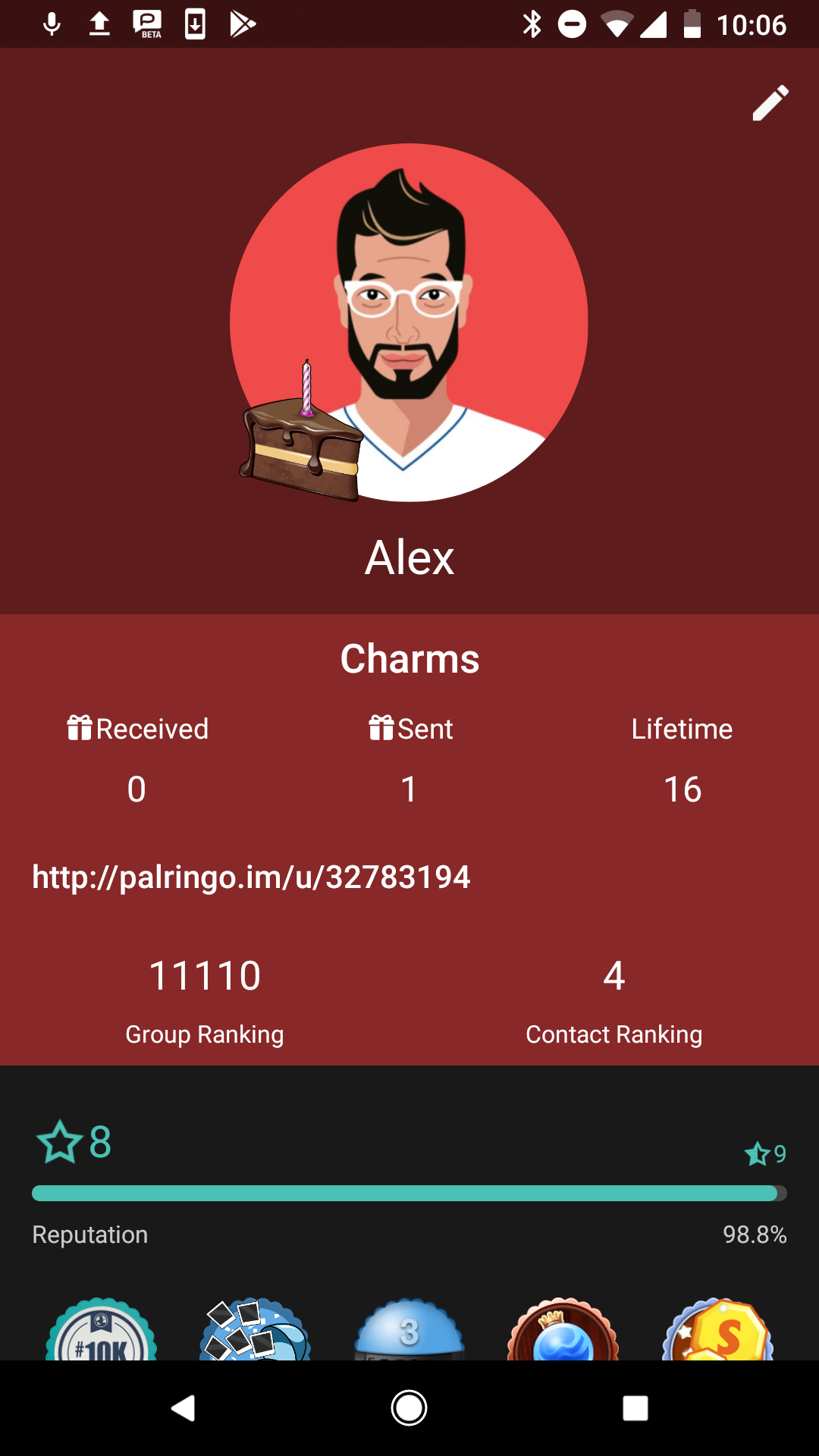 Received: How many Charms you have been given.
Sent: How many Charms you have sent to other users
Lifetime: The total number of Charms you have owned.
Charms Inventory
This is where you can see all of your active charms, quantity, along with longest expiry duration, whether or not it's gifted (gifted symbol).
| | |
| --- | --- |
| Charms Profile (Android) | Charms Profile (iOS) |
| | |
| | |
*Buying a Charm for yourself won't contribute to your Received or Sent stats!
*"You cannot yet view another user's Charms inventory
What is the Charms Details view?
Tapping the clipboard graphic to the right of "My Charms" will take you to the Charms details view. Here, you can see several stats:
Total Received: The total number of Charms you have received from other users

Total Sent: The total number of Charms you have sent to other users

Total Lifetime: The total number of Charms you have both given and received

Total Active: The total number of Charms that you currently have active, across all categories

Total Expired: The total number of Charms that have expired

Most Received: The Charm that you have been given the most

Most Sent: The Charm that you have gifted to other users the most
PLEASE NOTE: Free Charms DO NOT add to your stats.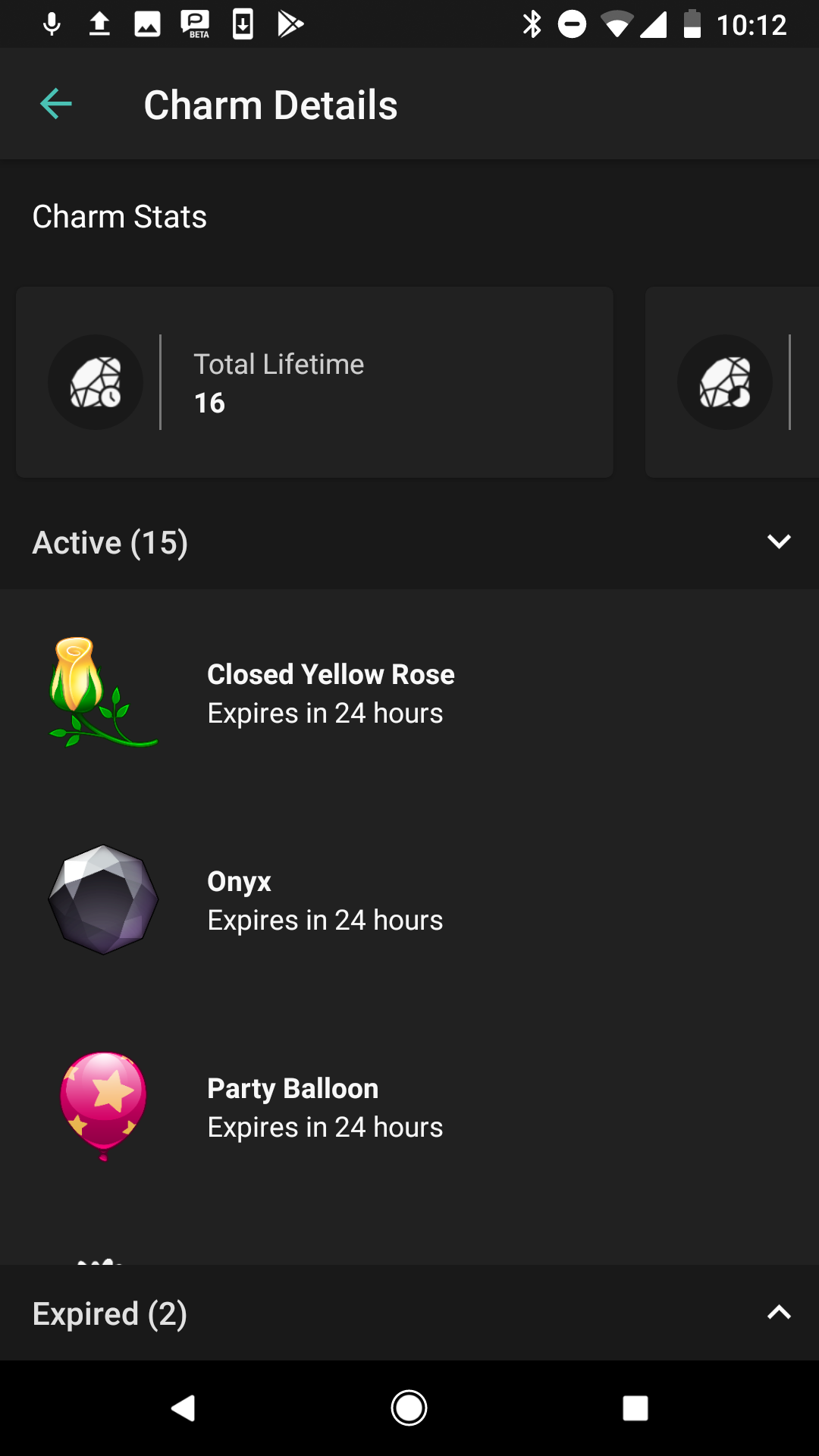 How do I display a Charm on my Avatar?
Charms are not automatically displayed once you receive them. In order to make the Charm visible for all, you need to open your inventory and tap on the Charm to select it to be displayed. You can deselect this Charm at any time or replace with another, or choose one you have already displayed--as long as the Charm is still active.
How can I gift/buy Charms?
Purchasing Charms is easy. You simply tap the basket icon on your Profile via the My Charms section; alternatively, you can visit the Charms section of the Store.
Charms are purchased with Credits. The price of a particular Charm will vary, based on the duration and type.
Step 1

Step 2

Firstly, visit the Charms store page by either tapping on the shopping basket icon next to "My charms" on your profile, or visit the the Charms section in the Store.

Once you are at the Store, tap on the Charm you would like.*

*Some Charms are locked behind reputation level.

Step 3

Step 4

Next, choose who will receive the Charm. To send a Charm to yourself, simply select your profile. To gift a Charm, you can enter their user ID or scroll down your contacts list.

Now choose how long you would like the Charm to last. Please note that different Charms have different prices.

Step 5

Personal Notification

Once you are happy, confirm your purchase. The Charm will appear on your Charm Inventory or, if you have gifted a Charm, the recipient will receive a personal notification (PN) alerting them to the Charm.

How the Personal Notification (PN) will appear on your app.
What does the lock symbol mean?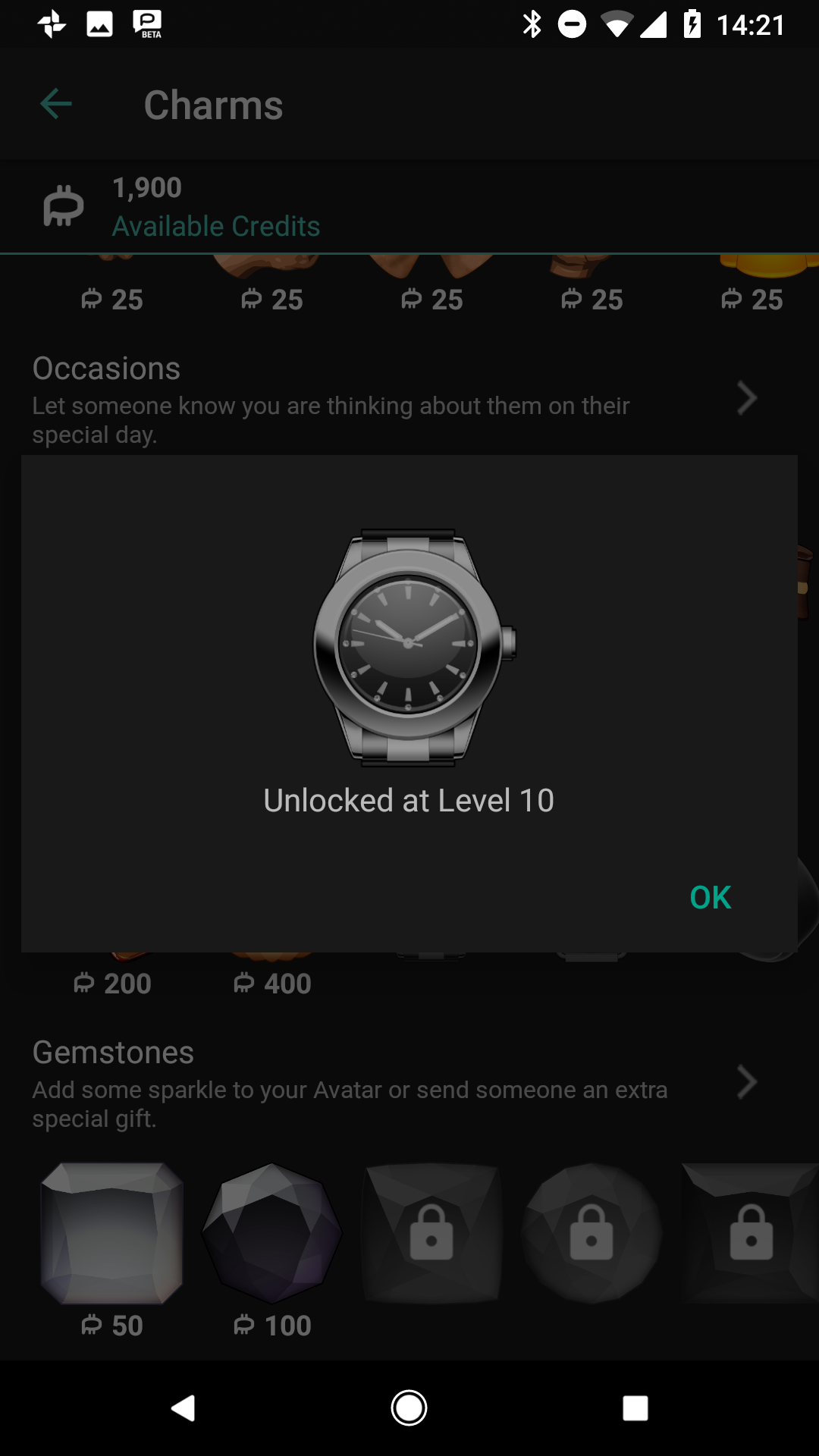 You may have seen the above notification when browsing certain Charms in the Store. Please note that Charms are gated by Rep level. I.e. Some Charms will only be available to Users with Rep level 10+*. However, any Charm can be gifted to another user if the sender has the requisite rep level. I.e. A level 10 user can send the above Charm to any other user.
Please note that some Charms may appear locked due to you having an insufficient Rep level. The example shown depicts a Charm that is locked for Rep Level 10 users or above. However, a user with sufficient Rep may gift this Charm to any user regardless of the recipient's Rep Level. This is how users can help other users obtain Charms and Achievements out of their reach.
*If you do not have the Rep required to buy certain Charms it will be greyed out in the store. If you click on it, it will tell you which level is required to unlock it.
How long do Charms last?
Regular Charms last for varying amounts of time: If you run out, you can always purchase more.
Limited Edition Charms will last forever. However, they are only purchasable within a set time-frame. After this period ends, they may be gone for good.
Limited Edition Charms have no expiry and will remain in your Charms Inventory until you manually delete them. However, they may only be available in limited quantities or during specific time frames. For example, a Limited Edition 'New Year 2019' charm may only be available to purchase on 1st January 2019 and there may only be a few thousand available. When they are gone, they are gone; so keep an eye on any promotional global notifications (GNs) and get in quick!
Charms do not stack--they are always separate with different times for each individual Charm. So, if you have a Rose that lasts for 3 days and one that lasts for 1 day, this does not become 4 days. They will remain separate.
Charms and Achievements
Charms have their own section in Achievements. There are Achievements for each category of Charms. In order to earn them, you must have owned the specific Charms from each category. Each Charm achievement will tell you what charms you need to have owned in order to unlock the Achievement.
You'll get rewarded for each step of the way. Please keep in mind that the reward is for Owning the Charm, not for buying it--so receiving Charms as gifts also qualifies. And don't worry if certain Charms expire--you won't lose your Achievement.
Charms is all about expressing yourself or demonstrating your generosity; whether that be to your Group members or all the friends you've made across the app. Because they are such a unique feature to the app, Charms and their corresponding Achievements do not currently generate Rep--they're gifts, ways to decorate your avatar, and show the world who you are.
| | |
| --- | --- |
| Where Charms appear in your Achievements | Individual Charms Achievements |
| | |